Bon Voyage Holiday Collection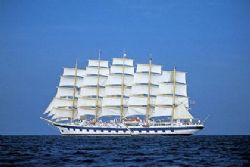 Bon Voyage Holiday Collection
Complimentary Massage, Champagne & Sweet Treats! Plus $200 Onboard Credit Per Cabin on select sailings!
Spend the holidays aboard a Star Clippers ship and we'll ensure it will be an unforgettable event! Joy to the Tropics - be it the Caribbean or Southeast Asia - as they keep you warm during the celebrations. And when you book one of our select sailings, you'll get all these perks,
...

Since 1991 Star Clippers Ltd. has offered sophisticated travelers the ultimate cruising vacation alternative – a tall ship "mega-yacht" experience aboard authentic re-creations of the classic sailing clipper ships that ruled the waves during the 19th century.
The brainchild of Swedish entrepreneur, Mikael Krafft, Star Clippers operates three of the largest barquentine and full-rigged sailing ships in the world. Star Clipper, Star Flyer and flagship, Royal Clipper are a triumvirate of
...