Body, Mind & Soul Cruise to Bermuda
Adventure of the Seas
August 8th - 13th 2020
Set sail on the Body, Mind and Soul cruise, Hosted by The Awareness Trinity on August 8, 2020 out Bayonne NJ to the beautiful island of Bermuda. Take part in the following exclusive activities with the Awareness Trinity. Your package includes...
* (6) Spiritual Workshops
* Daily Morning Meditations
* Beach Qi Gong & Meditation
* Evening Meditation, Sound Therapy and Discussions
* Private sessions available for Energy Healing, Intuitive Readings, Past Life Regression. (Limited appointments with the four Practioners)
Psychic Medium
Intuitive Counselor
Spiritual Teacher
Energy Healer
Jennifer is a natural born intuitive who's passion is to help others heal and assist them along their journey .
Jennifer channels your loved ones who have crossed along with your guides and Angels
Jennifer enjoys teaching individual techniques on how to "tap into "
Your own intuition through exercises and meditation , which includes finding your souls purpose and raising the collective consciousness
Vito Scopo can deliver messages from the our loved ones,angels and our spirit guards who have crossed over,since his childhood Vito is a reiki master, medical intuitive and Vito channels spirit through tarot readings
Vito is a natural that he teaches through his readings so you can get in touch with your own spiritual self,
Vito is available for psychic and mediumship gatherings one on one or groups.
Mindfulness Meditation Coach
Certified Consulting Hypnotist
Past Life Regression Therapy
Spiritual Teacher/Soul Coach
Steve has dedicated himself to helping others realize and wake up to their soul's purpose.
Assisting in releasing anxiety, fears and limitations in order to overcome blockages from becoming the best and highest version of ourselves.
Steve's calming approach and intuitive direction help create sessions that are effective in healing and enlightening individuals and groups.
Special Keynote Presenter
Anna Miranda began her spiritual journey at the age of 16 after a profound spiritual awakening and near death experience. Since her experience she has dedicated her life to the study of metaphysics. As an Intuitive coach Anna utilizes many different forms of Intuitive arts to help coach others spiritually and guide them toward discovering their true potential. She is also the founder of The Miranda School of Intuitive Arts, her school offers development classes and certifications in healing and intuitive arts.
Anna's Credentials include:
Certified Hypnotic Intuition Specialist
Integrated Energy Master Teacher
Specializes in soul contracts readings
EFT (emotional freedom techniques) Practitioner
Past Life Recall Facilitator
Bachelors in Communication
Deposit to lock in your spot is $250 p.p.
EVEN WITH OUR EXCLUSIVE ADD ON PROGRAM, OUR BALCONY PRICING IS CHEAPER THAN ROYAL CARIBBEAN'S CURRENT BALCONY PRICING. BOOK BEFORE WE SELL OUT OF OUR ALLOTMENT OF OUR SPECIAL GROUP PRICING!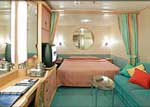 Interior Stateroom: $979* Per Person (Double Occupancy)
Interior Stateroom: $1695* (Single Occupancy)
This standard stateroom offers two twin beds, a private bath and all the amenities of our standard staterooms.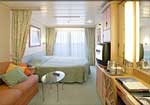 Deluxe Oceanview Balcony Stateroom: $1329* Per Person (Double Occupancy)
Decluxe Oceanview Balcony Stateroom: $2373* (Single Occupancy)
Our Deluxe Ocean View Staterooms offer a spectacular view, small sitting area, and a private balcony.
Frequently Asked Questions:
Question: If we book direct with Royal Caribbean or another travel agency, will we be able to purchase tickets to take part in our exclusive events ?
Answer: No you will not. This is a PRIVATE group that is not open to the other passengers onboard. If anyone books this cruise with anyone other than the Cruise and Travel Shoppe, you will not have access of our private functions.
Question: If we have four people, is booking one suite for all four people cheaper than booking two rooms?
Answer: Booking suites will always be a more expensive option because suites are substantialy more than the regular rooms, even when dividing it between four people.
Question: Do we need a Passport for this cruise?
Answer: We strongly recommend a passport for this cruise however you can use a Government issued photo ID along with an original state issued birth certificate as well. We recommend you get a passport because if there was an emergency that required you to fly back to the United States from the Bermuda, then a passport would be required to fly.
****This is a private group and an add on to the regular cruise. You must book with the Cruise and Travel Shoppe to take part in all of the PRIVATE exclusive events with the Awareness Trinity. If you book with anyone other than the Cruise and Travel Shoppe, you will NOT be able to take part in this program.****
For Reservations: - Contact the Cruise and Travel Shoppe:
David Kramer (954) 427-3216
Email:
*All rates are subject to availability at the time of booking. Prices and not guaranteed until booked and deposited. Prices above are based on double occupancy unless noted as single occupancy. Gov't Fees of $204 p.p. are additional. Above prices do not include gratuities. 10 days after your initial deposit, all monies are non refundable. Promotion subject to cancellation if there is lack of participation.